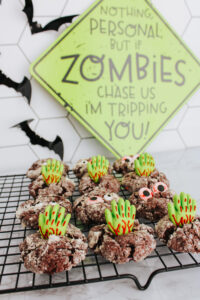 It just snowed in Minnesota and I'm having a hard time keeping my brain focused on Fall.  It feels like a winter wonderland outside and I have Christmas songs stuck in my head.  Must be 2020, amiright? 😉
Well, back to what this post is about…COOKIES! I don't know about you but I love cookies…and so does my family.  I think they're an easy item to bake and one that you can get your kiddos involved in as well. These are no exception PLUS you can add a little Halloween twist to them by adding in your favorite cookie embellishment! I'm ALL about having a little Holiday fun without too much fuss.  Meet the chocolate Monster Cake Cookie.
These are a cross between a cookie & a cake…not quite a cupcake either.  They're fluffy, light yet filling and full of delish.  I'd like to add eating one right from the oven will fall apart, so let it sit for a few mins and then dive right in.
Below you will find some recommended candy embellishments to make these monster cookies.  I also know Target & Michaels have these (or very similar ones) as well!


I keep these posts super short & sweet because I'm fully aware most people just want that recipe and let's face it, scrolling for too long becomes annoying.  But first!  I'd love if you can add this recipe to your pinboard to share it with your friends & family!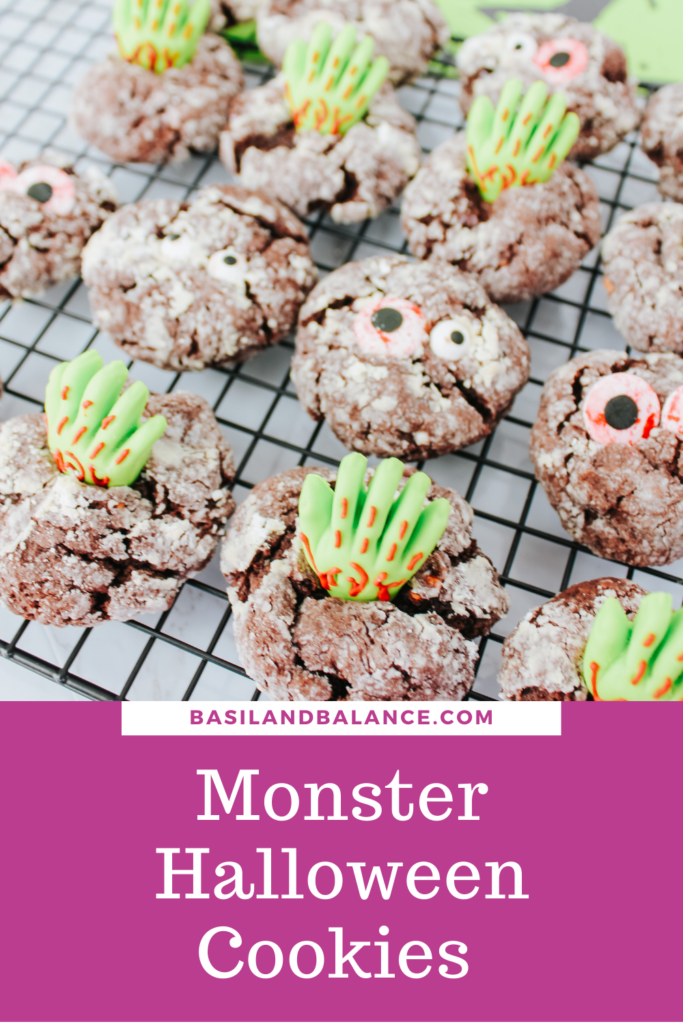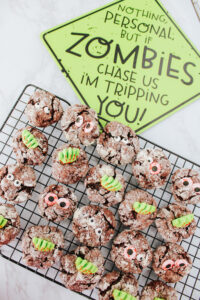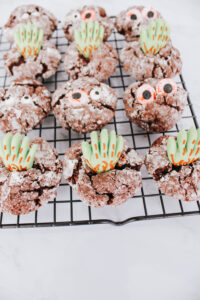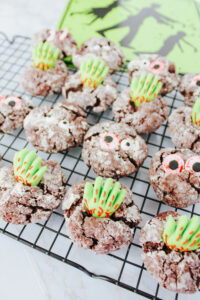 Monster Cake Cookies
Author: Sarah LaBine
Recipe type: Dessert
Prep time:
Cook time:
Total time:
Serves: 24
These fun Halloween Monster Cake Cookies are a family favorite for both kids & adults. Get the kiddos involved when making these, they're sure to have fun baking with you.
Ingredients
1 Box chocolate cake mix
1 Egg
½ C. softened butter
½ Tsp. vanilla
8oz Cream Cheese
Powdered Sugar
Candy Eyeballs, Monster Hands and other candy embellishments
Instructions
Beat the egg,, butter, vanilla, & cream cheese until fluffly
Mix into the cake mix
Chill for 30 mins
Preheat oven to 350
Once chilled, roll batter into balls & cup into powder sugar
Placed on a greased cookie sheet & bake for 10-12mins
Add the embellishments while cookies are still warm
ENJOY!