Summer has been great and all but it's time to step aside – IT'S FALL SEASON, BABY!  This granola is the perfect entry into a fall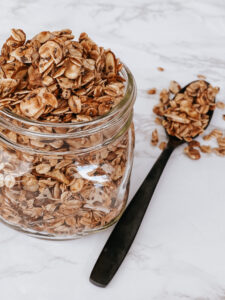 which includes a dash of cinnamon to get you in the mood.  Plus, who here is ready fo a new week?  I know I am!
Last week was a doozy and I'm ready to start off on the right foot which includes a delightful breakfast.  Meet your new morning favorite, a simple almond + honey granola that will add a little pizzaz to your morning breakfasts this week.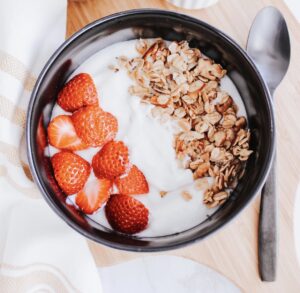 This is an easy recipe to make, the most time consuming part is the baking which is a win in my book.  Once you pop it in the oven you're on your way to a delicious yogurt parfait or a simple snack.
The best thing about this recipe is that it's packed with micro and macro nutrients such as protein & fiber from chia seeds, flax, and nuts. A plethora of vitamins & minerals from all ingredients such as magnesium, vitamin B, calcium, and zine (just to name a few). I feel like granola gets a bad reputation for being a "carb" but remember all foods should be welcome in our diet.
As always, you'll want to make sure you have the recommended kitchen items to make this amazing masterpiece.


And don't forget to add this to your pinboard on Pinterest!

Simple Breakfast Granola
Author: Sarah LaBine
Recipe type: Breakfast & Snacks
Prep time:
Cook time:
Total time:
Make this warm crunch granola to add to your morning breakfasts or afternoon snacks. Packed with oats, nuts, and additional goodies like chia & flax.
Ingredients
4 C. Oats
1 C. Sliced Almonds
1 C. Chopped Walnuts
⅛ C. Chia Seeds
¼ C. Flax
2 tsp Cinnamon
¼ C. Coconut Oil
⅓ C. Honey
¼ C. Brown Sugar
1.5 Tbsp Almond Extract
Instructions
Preheat oven to 250
Add oats, almonds, walnuts, chia seeds, flax, and cinnamon to a large mixing bowl.
Add coconut oil, honey, brown sugar and almond extract to a sauce pan.
Bring to medium heat, stirring occasionally until brown sugar & honey are dissolved.
Once dissolved add the sauce to the large mixing bowl with the oats and stir until evenly coated.
Line baking sheet with parchment paper
Evenly spread out granola mixture onto pan and set in oven.
Bake 30 mins mixing every 10.
Turn oven to 300 for 5-7mins if oats need a little extra heat to dry out.