First things first.  I'm so happy you're here & interested in making mocktails.  Believe me, I never thought I would have an entire post dedicated to a Mocktail but here I am!  (ps – you can totally add a splash of your favorite vodka/rum  and make a homemade cocktail as well)!
I have 3 mocktails for you:
Grapefruit Rosemary Spritz
Strawberry Lime Mockmuel
Watermelon Basil Bubbly
So get out your fancy glasses & let's cheers to trying something new.
First up – Grapefruit Rosemary Spritz – doesn't she look absolutely devine?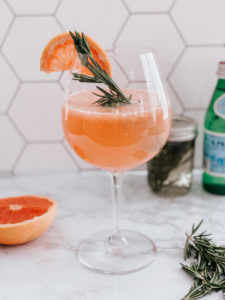 Here's what you need:
2 Grapefruits
Rosemary Simple Syrup
Flavorless Sparkling Water
I used a juicer to get that fresh grapefruit taste but you could easily peel your grapefruits & put it in a blender.  There may be more pulp than you would like so you can strain out as little or as much as you prefer.
Add juice to your fancy glass.  Next add 1-2 Tbsp of your rosemary simple syrup.  Fill your glass with 8oz sparkling water.  Stir, garnish with a rosemary sprig & grapefruit slice, & enjoy.
Next up is the Strawberry Lime Mockmuel.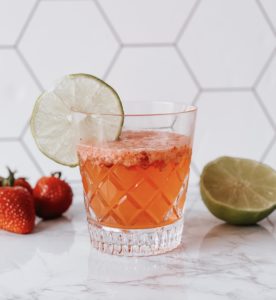 Here's what you need:
1/2 lime
Strawberry Simple Syrup
Macerated Strawberries from syrup
Flavorless Sparkling Water
This is such a refreshing mocktail.  Easy make and beyond delicious.  Grab your favorite lowball glass or a mule cup & let's get mixing.
First, squeeze 1/2 a lime into your cup.  Add in 1-2 Tbsp of your strawberry simple syrup.  For an extra pep in your step, add in 1 generous Tbsp of the macerated strawberries from your simple syrup.  Fill you glass with 8oz sparkling water (could also use a lime truly or white claw to make this a cocktail).  Stir, garnish, and sip sip hooray!
Last up is the Watermelon Strawberry Basil Bubbles.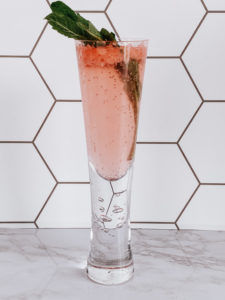 Here's what you need:

Watermelon Strawberry Basil Syrup
Flavorless Sparkling Water
Macerated fruit from syrup
This one is so simple with just 3 ingredients but tastes delightful because of  the watermelon basil syrup.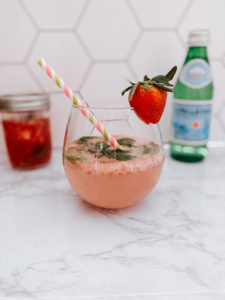 Grab a champagne flute or your favorite wine glass.  Add  1 Tbsp of the syrup
for Champagne flute or 2-3 Tbsp of the syrup and fill your wine glass. Add a dash of the macerated fruit Top with your favorite sparkling water.  You can add in a basil stem for looks.  Might I add this one smells like summer!
Don't forget to add this to you pin board to save for later!  Cheers, friends!