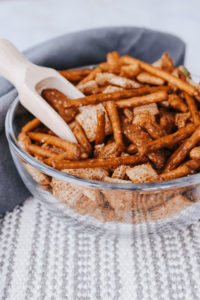 If you've been following me over on Instagram for a bit you know I'm a big fan of snack mixes.  Both sweet & savory, I love them all.
Today, I'm sharing my Asian Style Chex Mix Recipe.  First up the kitchen items you will need are as follows:
Cookie Sheet
4.5 Quart Mixing bowl
Mixing Spoon or Spatula
2-4 C. Measuring Bowl
Next up are the recommended ingredients.  I found all of my ingredients at my local HyVee.  The hardest items to find may be the rice crackers & sesame sticks.  They are usually in the bulk item areas; however, with everything going on, you can't buy from the bulk section.  My local HyVee has their bulk items portioned out into containers which makes life so much easier at the moment. You can also check the asian aisle for these items. If you're really in a pickle & can't find them at your local store, nuts.com has what you need.  Same with Amazon; however, their prices are a little inflated on these items.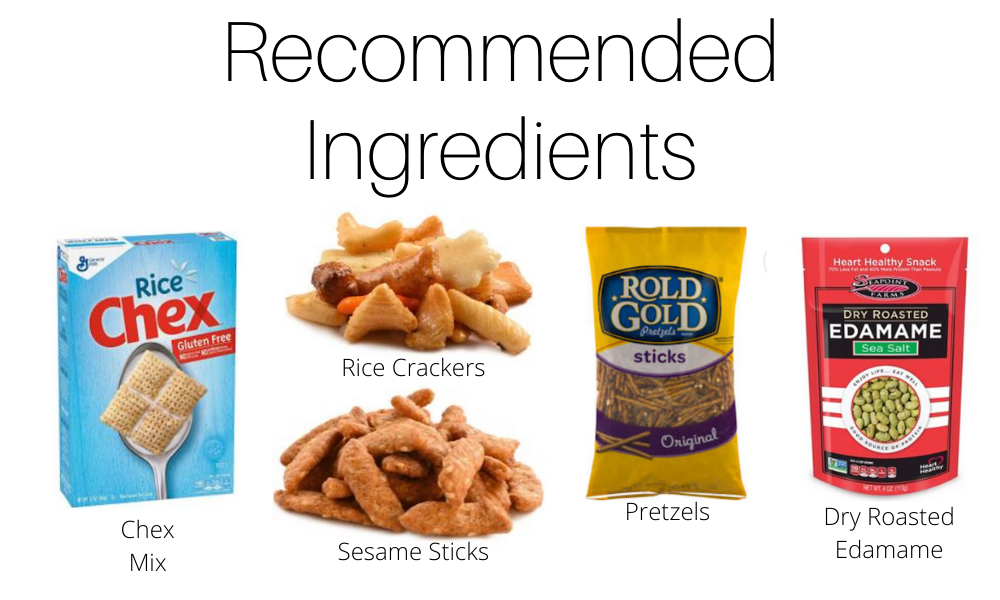 Now for the sauce, although the list is long, we keep these in our house at all times.  I'm thinking you have them as well.  Here they are:
Butter
Soy Sauce
Worcestershire
Honey
Seasoned Salt
Garlic Powder
Onion Powder
Cumin
Cayenne Pepper (optional if you want a little kick – it's not powerful)
Without further adieu, here is the final recipe!  Don't forget to tag me on Instagram if you make this!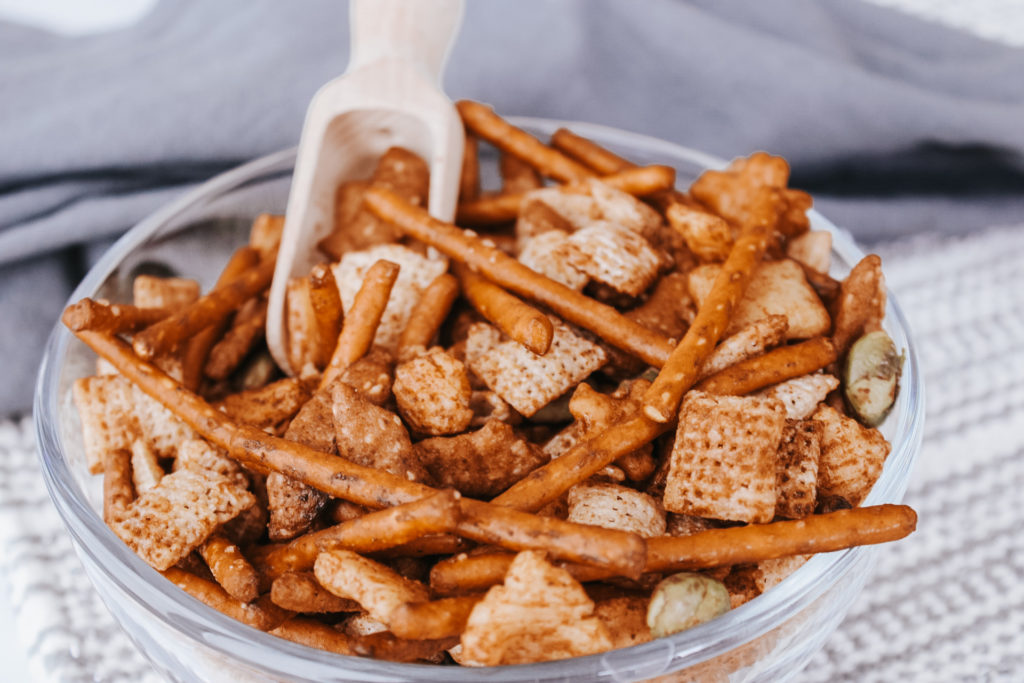 Asian Style Chex Mix
Author: Sarah LaBine
Recipe type: Snack
Prep time:
Cook time:
Total time:
A snack mix that's fun to make the whole family will enjoy.
Ingredients
6 C. Chex Cereal
4 C. Rice Crackers
2 C. Sesame Sticks
2 C. Pretzels
½ C. Dry Roasted Edamame
9 Tbsp Melted Butter
4 Tbsp Soy
2 Tbsp Honey
1 Tbsp Worcestershire
1½ tsp Seasoned Salt (Lawrey's)
1½ tsp Garlic Powder
1 tsp Onion Powder
½ tsp Cumin
Optional: ¼ tsp Cayenne (if you want a little kick)
Instructions
Preheat Oven to 250 degrees
Combine all dry ingredients in a large mixing bowl
In a microwave safe bowl, melt butter
Whisk in all Sauce ingredients to the butter bowl
Once throughly combined, pour over the Chex mixture
Slowly and carefully stir to coat evenly
Pour onto baking sheet & place into oven for 1 hour stirring every 15 mins.