IT'S CHRISTMAS TIME!!!!  Friends, it's that time of year where we are bombarded with Holiday & Christmas parties.  Although I love to celebrate, I can get a little frazzled sometimes.  Do I bring something to share?  What about a gift for the host?  Will this actually be yummy for others?  What if no one eats what I bring?
Let's just say, this Kris Kringle Party mix does not disappoint.  I had plenty of taste testers and let me tell you, everyone loveeeeeed this!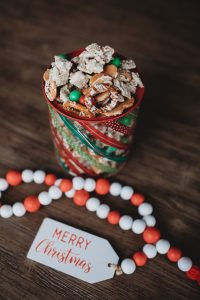 It's a perfect mix to bring to a party!  You don't even have to turn your oven on to make this!  PLUS! It's going to be a hit, people will most likely gobble it up because it's THAT good.
If you're feeling generous, you can buy cute little tins to fill & give as a hostess gift.  I purchased mine from Hobby Lobby, but Target & Amazon are great to checkout as well.
I love to show my appreciation to others & this is a unique, fun, and festive way to do so!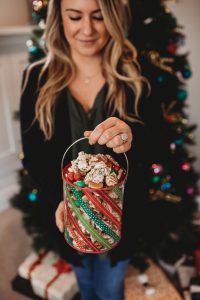 I've included two printables for you!  The recipe card &  a printable shopping check list.  This easily shows what ingredients you need to make this treat!  So tell me, is this going to be for yourself or are you going to share with loved ones?
Kris Kringle Party Mix
Author: Sarah LaBine
Recipe type: Dessert
Serves: 20
Enjoy this sweet party mix, full of crunch & Christmas fun! It's great for gifting OR hosting! Don't be a scrooge, share with a friend!
Ingredients
2 cups Festive Pretzels
1 package Peanut M&M's
½ cup Crushed Toffee
8 cups your favorite chex
2 cups Mini Nella Wafers
2.5 Ghirardelli White Chocolate Melting Wafers
Favorite Holiday Sprinkles
Instructions
Line 2 large baking pans with wax paper
Mix Cereal & Toffee bits into a large bowl
In a microwavable bowl, microwave 2 cups of the baking chips uncovered, watch carefully, and stir every 15 seconds until mixture is smooth
Pour over cereal mixture & stir
Spread onto one of the pans & top with sprinkles immediately
Cool until set (20mins)
Next, spread cookies & pretzels in single layer on the other pan
Microwave remaining ½ cup baking chips uncovered until smooth
Dip spoon into chocolate and drizzle onto wafers & pretzels.
Shake on sprinkles
Cool until set (20ish mins)
Break cereal mixture into chunks & add all ingredients to a bowl
Last but not least, add in M&M's & stir
This recipe was inspired by Chex cereal.  I've adjusted it to my own taste and flavor.
All photos from Katie Jeanne Photography