It's been a hot minute since I've worked on my blog but I'm excited to share this simple pasta salad recipe with you!!  Included in todays posts are a few tricks to make this recipe quickly so make sure you slow your scroll.  However, if you're just here for the recipe card 😉 scroll to the bottom BUT don't forget to click the last image to add the recipe to your pinboard!!
RECIPE TIPS:
First, there are a few ways to use your corn.  I went with the easiest option which is canned corn drained & rinsed, done!  But if you're feeling extra fancy or have some extra time on your hands you can roast your corn one of two ways.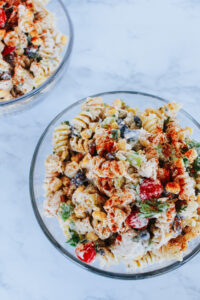 Roast fresh corn on the cob on the grill.  You will get that charred summer flavor everyone craves in the summer.
Don't have time but still want that roast flavor?  Drain and rinse your canned corn.  Add it to a pan on your stove with just a dash of oil.  Continue to stir as it heats up to avoid burning.
Another tip:  follow my instructions for making quick shredded chicken here.  You can bulk prep your protein so you have some to use for other meals or pop the rest in an airtight freezer bag!  It's nice to have chicken already made so you can grab and use it when a recipe calls for shredded chicken. Easy peasy, right?
Lastly, I went the quick route and used primal kitchen's chipotle lime mayo instead of making my own.  It terms of a nutrition label, it's fairly comparable to your typical mayo.  The biggest difference is the ingredients used in primal kitchen which are mostly organic with the base being avocado oil instead of soybean oil.  If you are unable to find primal kitchen at your local grocery store you can simply make your own chipotle lime mayo as follows:
1 C. Mayo
1/2 lime zest
1 fresh lime squeeze
1/2 tsp garlic powder
1 tsp chipotle chili powder (or chili powder)
Pinch of salt
Cayenne pepper if you want a little extra heat
Lastly here are the suggested kitchen items to make this recipe:

Click the below photo to save directly to you Pinterest board!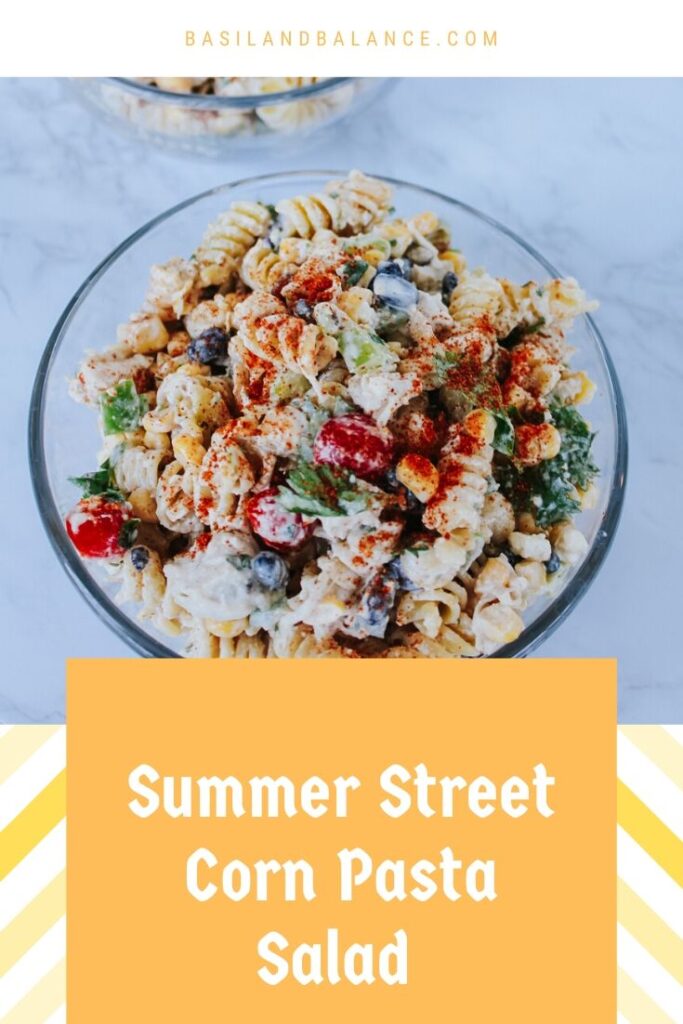 Summer Street Corn Pasta Salad
Author: Sarah LaBine
Recipe type: Lunch/Dinner
Prep time:
Cook time:
Total time:
Serves: 8
Enjoy the taste of summer with this fresh summer street corn pasta salad. A simple and easy recipe that will keep well & guaranteed to
Ingredients
1 package pasta
1 lb shredded chicken
2-3 cans of corn (or) 6 ears of corn
1 can black beans (rinsed)
½ cup cheery tomatoes halved
¼ cup cilantro
2 green onions chopped
½ green pepper
1 jalapeño
1 cup primal foods chipotle lime mayo
½ cup sour cream
Instructions
Cook noodles to instruction on box.
While that is cooking, drain & rinse corn and beans. If you're feeling fancy you can roast your corn on the cob on the grill or get your canned corn charred by placing it on the stove until desired taste.
Dice up tomatoes.
Cut onion, green, pepper, and jalapeño (don't forget to wash your hands after touching the jalapeño)!
Chop up our cilantro in a food processor to get it nice & fine.
Once noodles are done, drain, rinse and cool.
After noodles are cooled, add above prepped ingredients to the bowl PLUS your shredded chicken.
Lastly, mix the mayo and sour cream in a separate bowl.
Once throughly mixed, pour onto pasta and give it a good stir.
Garnish with a sprinkle of paprika, cilantro or additional green onion.