Where are my savory people?  I love a good sweet treat but my cravings usually sway towards the savory side!  I have an easy mix for you to make and it's going to be one you keep coming back to for any and all occasions.  I love that this doesn't HAVE to be a Holiday treat but if you're in the giving mood, pop it in a tin and you've got yourself a giftable treat for friends & family.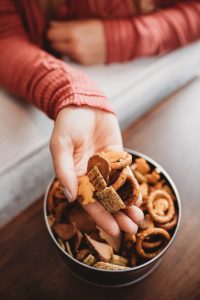 I received this recipe from my neighbor, using all goldfish.  I thought to myself, this seasoning is perfect to use regardless what "snack" item I choose.  So I decided to create my own little mix which is bursting with even more flavor.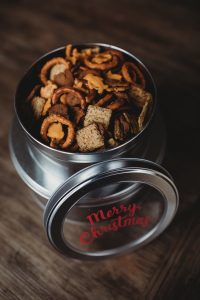 I stumbled upon cheddar penguins at my local HyVee & thought these adorable little guys NEED to be in my mix.  They add a simple wintery touch.
Next, I used some circular pretzels.  You could use the Christmas tree pretzels that come out around this time.  Either will add a fun touch to the mix keeping in the winter theme!
This next ingredient was a delish surprise for me to find as well;  mini gouda triscuit. Insert drool emoji here!  Have you ever seen a mini Triscuit?  Because I haven't, until now!
Lastly, I bought a bag of  brown Gardetto chips.  Technically, they're called  Gardetto's Special Request Roasted Garlic Rye Chips, but I think everyone knows them as those brown Gardetto chips.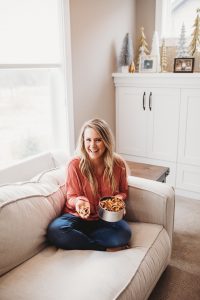 Below is the printable recipe card!  You can substitute the snack items you choose to use; however,  I highly recommend having a cheese item & a pretzel.  Let me know what you use in your mix, I'd love to know how you've gotten creative!

Savory Sleigh Ride Mix
Prep time:
Cook time:
Total time:
Ingredients
⅔ cup oil
1 Tbsp dill
1 Tsp cayenne pepper
1 package dry ranch seasoning
4 packages of your favorite snack items, I used:
Cheddar penguins
Circle pretzels
Brown Gardetto Chips
Mini Gouda Triscuits
Instructions
Fill bowl with all snack items & mix
Next drizzle the oil over the snacks & add all seasonings
Give it a good stir so it's evenly coated
Bake at 250 for 40 mins (until the oil has been absorbed) stirring occasionally
*Photos taken by the lovely
Katie Jeanne Photography
*