I don't know about you but there's something about enjoying comfort food with a nice glass of red wine that really makes home feel oh so cozy  in the middle of winter.  My go-to, a pot roast!  Maybe it's the warm tender beef or the smell that fills the kitchen when I make this dish.  I have a fantastic recipe for you that you will fill your belly & soul on cold winter nights.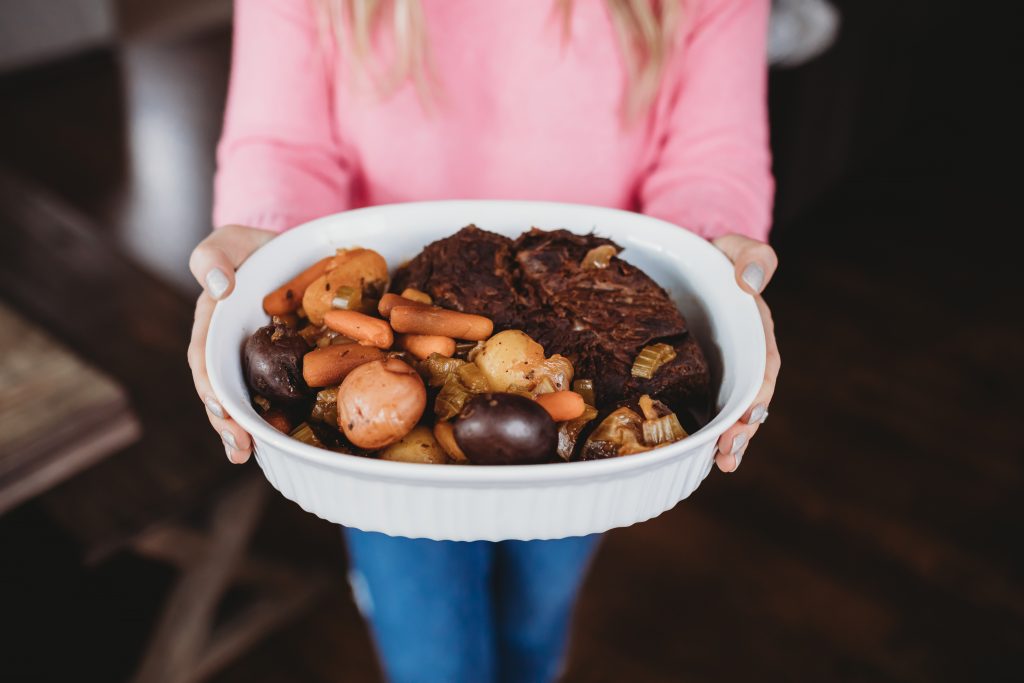 I want to preface this by saying this is made in the Instant Pot! You will want to make sure you sear your meat to lock in as much flavor as you can!  I promise this step is one you will NOT want to miss.
There are a few reasons why making this in the Instant Pot is suggested:
One pot to clean = minimal dishes
Sealing in the flavor
Cook time is 50-60 mins depending on your roast size
The meat is so incredibly tender it just falls apart
Before the big recipe reveal, I've created a quick grocery list for you to make this recipe.  Be sure to click the link below for your FREE printable!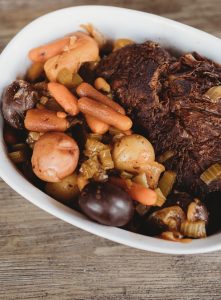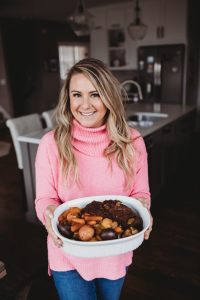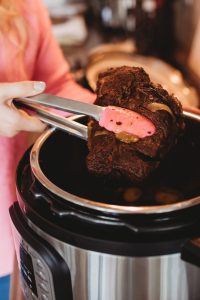 The Perfect Pot Roast
Author: Sarah LaBine
Cuisine: Cozy Homestyle
The prefect meal for those cold winter nights. Warm tender beef bursting with flavor & vegetables you'll love. Your home is sure to be filled with delicious smells you won't be able to help but pour yourself a glass of wine to get that true cozy home feel with this meal.
Ingredients
3lb Beef Chuck Roast
1 Package Little Potatoes
1 Package Baby Rainbow Carrots
8 Stalks Celery
1 Large Onion
½ Can Tomato Paste
1 Cup Beef Broth
1 Tbsp Oil
1½ Tbsp Worcestershire sauce
2 Tbsp Balsamic Vinegar
½ tsp black pepper
½ tsp onion powder
1½ tsp dried parsley
1 tsp garlic powder
2½ tsp Lawry's
Instructions
Turn on Insta Pot to saute and add oil.
As oil is warming up, mix all the dry ingredients (black pepper, onion, powder, parsley, garlic powder and Lawry's) into a small bowl.
Sprinkle onto both sides of the chuck roast and massage into meat.
Once the Instant Pot is ready, face down one side of the roast and let the meat sear for 3-5 mins. Switch and do the other side for 3-5 mins.
During this time, slice your onion and celery. I like to keep my both of these in large chunks. You should also wash your potatoes
When the meat is done searing, turn off InstaPot and remove the meat.
Add the beef broth and scrape off the seasoning pieces that are stuck to the bottom. You don't want to miss this step as you will most likely get that dreaded burn warning in the middle of your cooking.
Next, add the beef back into the pot & add the chopped onion, and the rest of the wet ingredients (tomato paste, Worcestershire sauce, balsamic vinegar).
Put on the lid, seal the valve and set the timer to manual 55-60 mins. (I tested this out with different sizes of meat and a 2.6lb roast needed 50 mins) so if you don't have an exactly 3lb roast, adjust as necessary.
When the roast is done cooking, let the pressure release naturally for 10-12 mins. Then flip the valve to manual release. Once done, you can safely open the lid.
Add in the potatoes, celery and carrots. Put the lid back on and seal the valve.
Set the pot to cook for approx 3 mins (depending on how big your potatoes are).
Once this is done, again, let the pressure release naturally for 10-12 mins. Then flip the valve to manual release.
Remove the meat and veggies (leave the sauce)
If you want more of a gravy type sauce, add corn starch (note: mix with cold water and THEN put in the sauce).
If you want more of an au jus, leave as is. Add to your serving piece and put in a separate bowl. Drizzle on top of your meat & veggies.
Pour a glass of your favorite wine (I prefer red with this meal)
Enjoy!